Long, Tall Texans Volume II: Tyler & Sutton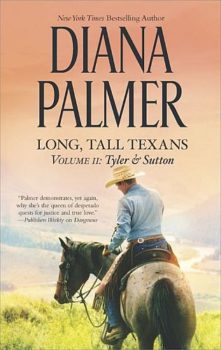 Long, Tall Texans
August 26, 2014
Paperback
Box Set
TYLER "Long, Tall Texans #3" (originally published October 1988 in Silhouette Romance #604 and reissued numerous times)
With only a quick glance at Nell Regan, a man might miss the beauty in the shy face, or the sexy figure hidden beneath the shapeless clothes. Nell had learned the hard way that she had nothing to offer a man. Her future was here, running her Arizona dude ranch…alone.
Then Tyler Jacobs arrived…a man who knew what it was like to be alone and alienated. He yearned to kiss away the pain he saw in Nell's deep brown eyes.
But Nell wasn't about to mistake kindness for love. Not again. Yet would denying her own desire destroy her one chance for happiness?
SUTTON'S WAY "Long, Tall Texans #4" (originally published September 1989 in Silhouette Romance #592 and reissued numerous times)
Tragedy had sent music superstar Amanda Callaway to the Wyoming mountains to heal. What she found was another battle to fight… Quinn Sutton.
Snowbound at his ranch, Amanda was glad Quinn was unaware of her real identity. With a chip on his shoulder the size of the Tetons, the rugged mountain man had no use for the opposite sex — especially city women who ran in the fast lane.
But what Quinn didn't realize was how special his world seemed to Amanda. Battling his misconceptions about her, she vowed to prove she shared the same old-fashioned values… and desires. When he learned who she was, though, would she lose him forever.
Other Books in the Long, Tall Texans Series