True Blue & Carrera's Bride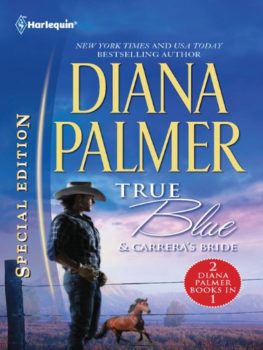 Long, Tall Texans
December 1, 2011
e-Book
Box Set
Tue Blue< "Long, Tall Texans #42" (originally published December 2011 in Harlelquin Special Edition #2155)
New York Times and USA TODAY bestselling author Diana Palmer continues her beloved Long, Tall Texans series by delving deep into the heart of one of San Antonio's top detectives, Rick Marquez. He never met a case he couldn't solve or a woman he couldn't charm. But this smooth-talking Texan is about to meet the one woman who'll lasso him—body and soul!
Plus a Diana Palmer reader favorite!
Carrera's Bride "Long, Tall Texans #29" (originally published November 2004 in Silhouette Special Edition #1645)
With his imposing stature and notorious reputation, Marcus Carrera instilled fear in friends and foes alike. However, there was one woman who could see beyond the casino tycoon's formidable veneer to the gruffly tender man inside. And their destinies collided when Jacobsville sweetheart Delia Mason was unexpectedly swept up in a tidal wave of trouble while on a tropical island holiday getaway.
After Carrera rescued her from an unwelcome suitor, he claimed her trembling lips in a boldly possessive kiss that left her dizzy with delight…and breathless for more. But in his top secret line of work, this man of mystery moved in dangerous circles. Now Carrera had to risk it all to take Delia as his beloved bride!
Other Books in the Long, Tall Texans Series